Reflecting on the first half of the school year, it is encouraging to note the many ways God continues to bless Reach Christian Schools!
Reflecting on the first half of the school year, it is encouraging to note the many ways God continues to bless Reach Christian Schools! At our Red Lion Campus, we had a number of joint events that allowed us to worship, pray, and build Christian community amongst Red Lion, Tall Oaks, and Journey.
S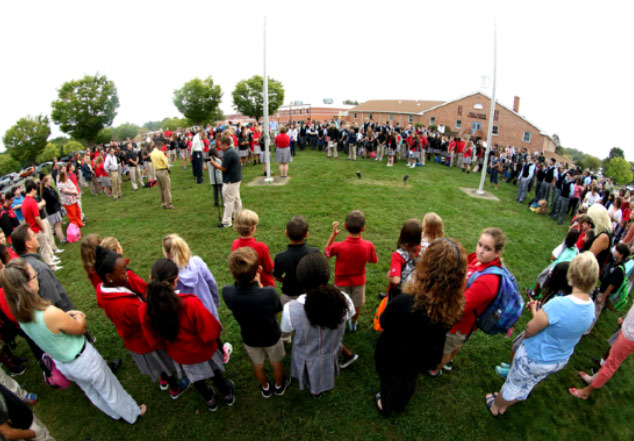 ome of these events include the following:
Prayer Convocation
See You at the Pole
Grandparents Day
Hurricane Relief Bucket Project
Reformation Day
Veterans Day Assembly
Christmas Chapel
Muffins for Moms
Donuts for Dads
Glasgow Christian Academy
Classes were paired together and earn spirit points throughout the year during competitions, service projects, and school events.
The student council hosted a Spirit Day and collected non-perishable food items to be distributed in Thanksgiving baskets.
Red Lion Christian Academy
The 8th grade class had a great trip to Williamsburg, VA.
The Upper School had a productive Day of Service.
Various classes served at A Door of Hope, Sunday Breakfast Mission, Veterans Cemetery, and Friendship House while other students raked leaves in the community and participated in campus service projects.
Jasper Merigala (8th grade) earned 2nd Place in ACSI Regional Spelling Bee and will move on to the next round.
The Upper School Choir ministered to the Little Sisters of the Poor Nursing Home.
Diana Mihalko will represent Red Lion at the state semifinal for Poetry Out Loud.
Red Lion Parents in Prayer meet weekly to pray for the students, teachers, and administrators.
Both Red Lion and Tall Oaks students had opportunities to visit with 15 different college reps.
Tall Oaks Classical School
Tall Oaks now offers students the opportunity to graduate with 51 college credits.
Fire Prevention Essay Contest
o 1st Place (8th grade) in New Castle County - Lydia Brown
o 1st Place (6th grade) in New Castle County – Celia Pope
o 3rd Place (5th grade) in New Castle County – Zeke Dernlan
VFW Voice of Democracy Audio-Essay Contest:
o 1st Place in Post 475 - Naomi Mengel
o 1st Place in Post 7365 - Katelyn Walker
Mid-Atlantic Christian Debate League Fall Tournament in Virginia:
o 2nd Place Varsity - Kaitie Booth and Mariko Turley
o 3rd Place Varsity - Joshua Dietrich and Micah Pope
The 5th grade class had a great field trip to Boston and Plymouth, MA.
Sam McGarvey will represent Tall Oaks at the state semifinal for Poetry Out Loud.
First and second grade classes sang songs and visited with residents at the Newark Senior Center.
Journey Christian Academy
Students filled six buckets for the hurricane relief project.
The school has grown from eight students to ten students this semester.
Newly-implemented remedial math program is achieving encouraging results. Of the four students in the program, the average increase in grade level was four months during the first two months of school.
Journey students have participated in Red Lion Choir, Tall Oaks Choir, Red Lion football, basketball, and cheerleading, and Tall Oaks and Red Lion instrumental programs.
Athletics
The Football team received the Sportsmanship Award for the Diamond State Athletic Conference.
We won our homecoming football game over Tatnall 23-20.
The Volleyball team reached the DIAA State Tournament Elite Eight.
David Willis, Jr. signed a National Letter of Intent to play baseball at James Madison.
Claudia Glover signed a National Letter of Intent to play lacrosse at Eastern University.
Looking Ahead
There are many exciting plans and events in the works for our families and students. Below are a few to make special effort to attend or pray for God to use in the life of the students.
Glasgow Christian Academy will host an event on Thursday, March 8 for all Reach Christian School (RCS) students in grades 9-12. The Red Lion Campus students will enjoy lunch and chapel with the GCA students at the Summit Bridge Road Campus.
Tall Oaks will host a "Taste of Tall Oaks" event at the Red Lion Campus chapel from 6:30-8:00 PM on Friday, February 2. This event is open to anyone interested in learning
more about the unique elements of a classical Christian education.
Red Lion elementary will host a "School Introduction Evening" on March 15. This event will allow parents to begin the process of preparing for the 2018-19 school year by visiting classes in the grade level above the current grade.
Students from all four schools will take part in the school musical production of Pirates of Penzance which will be performed March 1, 2, and 3 at the Red Lion Campus.
May God bless you and your family as you rest in the great work of Jesus this new year!
In Christ Alone,
Dr. Timothy Dernlan
Head of Schools