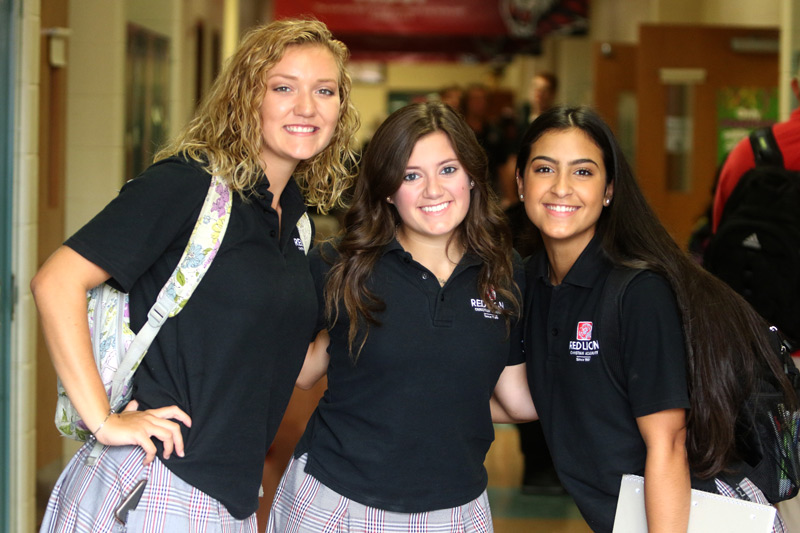 Reach Christian Schools is pleased to present admission overview procedures for the upcoming school year. Please see the summary link below for full details.
Preschool Admissions Procedures
Kindergarten Admissions Procedures
Grades 1st through 12th Admissions Procedures
International Students Admissions Procedures
Financial Information
Reach Christian Schools utilizes an online company called FACTS Management to manage our tuition collection program. The system offers a variety of online payment plan options in which you can pay tuition on either the 5th or 20th of the month. There is an annual FACTS enrollment fee of $45.
Registering online with FACTS is a mandatory part of your registration. You will be able to fill out your online tuition conveniently from your home or work.
Payment Methods:
Automatic Bank Payment (ACH) - ACH payments are those payments you have authorized FACTS to process directly through your financial institution. It is simply a bank-to-bank transfer of funds that you have pre-approved from either your checking or savings account.
Credit Card - If you elect to use this option, your payment, along with a 2.75% convenience fee, will be automatically charged to your credit card (AMEX, MasterCard, Visa, or Discover are accepted). Paying with your credit card allows you to take advantage of various bonus programs offered by your credit card company.
Payment Options:
Tuition and Fees are paid in monthly or bi-monthly payments or paid in full. All payments are through FACTS. Families select either the 5th or 20th of the month for their payment date. If you need to change this date, please contact the Finance Department.
Once payments have been setup, FACTS automatically sends a reminder email of the scheduled payment date and amount. Reminder emails are sent a few days before the payment is due.
Pay-In-Full - A discount is applied if total tuition is paid in full.
Nine-Month Payment Plan - September through May
Ten-Month Payment Plan - August through May
Eleven-Month Payment Plan - July through May
Twelve-Month Payment Plan - June through May
FACTS Customer Service
FACTS is committed to doing all they can to provide you with the highest quality customer service.
To view your account online, simply go to https://onlinefactsmgt.com and enter your username and password.
To speak with a representative 24 hours a day, please call 866-441-4637.
Reach Christian Schools looks forward to our partnership with FACTS and the efficiency and technology it brings to our schools. Should you have any questions regarding this plan, please contact Dawn Waters at 302-834-5020, ext. 838.
How to enroll in FACTS Management:
Log onto the Facts Management website.
Be sure to have the following information ready: Account information for the person responsible for payment: bank name, account number, and the bank routing number. This information is located on your check. If paying by credit card, have your card information available.
If you have an existing FACTS account, select Sign In. If you are a new user, follow the instructions to create a FACTS payment plan account with a user name and password.
Please add all students and their grade levels that you are going to enroll for the upcoming school year.
Before you click the submit button, please carefully read the Final Review. Notification confirming your enrollment in a FACTS payment plan online will be sent to you after you submit your agreement.
The enrollment process will be complete at the Thank You page when you are given a FACTS agreement number. Please print that page with your agreement number on it and save for your records.
Frequently Asked Questions
If payments are made automatically, does that mean FACTS or the school listed on my agreement has direct access to my account? NO. This is a common misconception about automatic payments. No one other than you and your financial institution has access to your account.
How do I make changes once my agreement is on the FACTS system? If you need to change information such as an address, phone number, email address, or banking information, visit https://online.factsmgt.com, or contact FACTS by phone. If you want to discuss changing the payment date or payment amount, you must contact the Finance Office at 302-834-5020, and your school will make the changes and notify FACTS. All changes must be received by FACTS two business days prior to the automatic payment date in order to affect the upcoming payment.
What if my payment date falls on a weekend or holiday? If the payment date falls on a weekend or holiday, the payment will be attempted the following business day.
When will the funds be withdrawn from my account? Although FACTS specifies the date each payment will occur, your financial institution determines the time of day the payment is debited from your account. FACTS recommends you check with your financial intuition to determine how far in advance the funds should be deposited into your account to ensure the automatic payment clears.
What happens if FACTS attempts to process my payment, and there are not enough funds in my account? Should an automatic bank payment or credit card payment be returned, a $30.00 FACTS fee will be automatically assessed to your account. You will be notified by FACTS of the returned payment via email. A reattempt will occur four days after your scheduled payment date.
Reach Christian Schools does not discriminate in the admission of its student on the basis of religious beliefs. RCS admits students of families who support Christian values representing any race or ethnic origin and from any geographical area to the school with all the rights, privileges, programs, and activities generally accorded or made available to students at the school.
Reach Christian Schools reserve the right to decline admission to a student if we feel that the school is unable to adequately provide for the student's special needs and believe that the student would be better off at another educational institution.