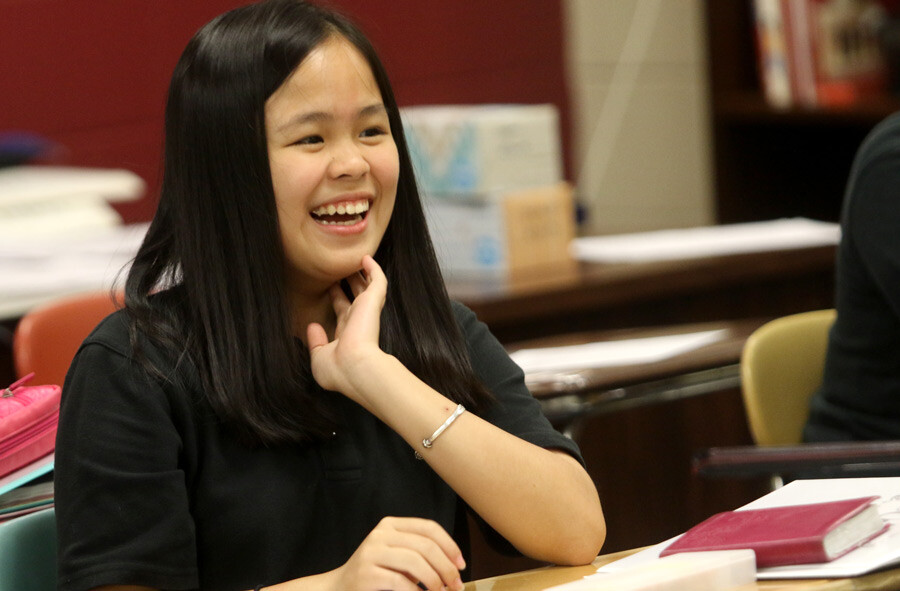 Red Lion benefits from the diverse blend of backgrounds and global perspectives of the international students that are enrolled. Both F1 and J1 visa students may enroll at Red Lion Christian Academy. During the last several years the countries represented include South Korea, China, Kenya, British Virgin Islands, Yugoslavia, Ukraine, Italy, Mexico, Japan, Philippians, Germany, Uruguay, and Brazil. An Academic Resource Program is required for international students in order to better transition into an American school and to improve their English proficiency.
Red Lion Christian Academy is authorized under Federal law to enroll non-immigrant students. Specific instructions for the application forms and other aspects of the admission process are outlined below.
ENROLLMENT NEW STUDENT
1ST STUDENT TUITION
2ND STUDENT TUITION
3RD STUDENT
TUITION
4TH STUDENT
TUITION
Elementary School:
Kindergarten-Grade 5
$1,200
$11,200
$10,700
$10,200
$9,700
Middle School:
Grades 6-8

$1,200
$13,700
$13,200
$12,700
$12,200
High School:
Grades 9-12
$1,200
$15,200
$14,700
$14,200
$13,700
International Student Tuition and Fees
International Student Admissions Procedure (PDF Version)
International Student Athletic Eligibility Form
APPLICATION
All international students must apply using the schools' application which can be found on the appropriate school's website. Applications must be submitted no later than April 1 prior to the year of desired enrollment. Refer to the tuition schedule for all tuition and application fees. Class placement is dependent on available space and is not confirmed until an applicant completes the admission procedures, application, and enrollment in the FACTS tuition payment plan.
GRADES/TRANSCRIPT
Parents and/or guardians must provide an English translation of the applicant's grade report and/or high school transcript. Students must also use the following reference forms that will be provided before a decision of acceptance is granted:
SCHOOL ORIENTATION
If possible, all parents and students are invited to call the Admissions Office and schedule a tour of the campus. If that is not possible, new families are encouraged to explore our schools' websites at www.reachschools.online.
TESTING
Students are required to take a school entrance/placement test which will be sent to them and must be returned for grading.
ENGLISH PROFICIENCY
Applicants must have an English proficiency that will allow them to function in a classroom where instruction is provided only in English. Students must demonstrate their English proficiency (oral, written, and listening comprehension). Students in grades 7-10 may take one of the following exams, TOEFL iBT, TOEFL Jr., or iTEP SLATE Plus while in their own country and have their official score results sent to the school. An interview with the applicant in person or through Skype is also required. Appointments for the interview will be arranged by the Admissions Office. All first-year students are required to take ELL/Learning Support. An additional fee may be required. The students will be evaluated at the end of the year to determine if additional support is required.
HOUSING
It is the student's responsibility to procure a host family. All host families must be approved by the Coordinator. The host family must agree to support the school's mission and at least one adult must be fluent in English. Host families must be willing to provide room and board in a safe environment, transportation, and monitor the student's behavior and attendance. If finding a host family is a concern or if a single point of contact to help with travel and transition services is desired, we recommend contacting Renascentia Hall International.
ADMISSION & ENROLLMENT
Student may not exceed the age of 19 upon the day of graduation. Applicants will be notified as soon as possible after completion of the foregoing steps regarding their acceptance and admission. Prior to issuance of an I-20, applicants must complete the above process for acceptance and admission. In addition, the parent or guardian must provide the following:
Copy of student passport
Affidavit of Support and Supporting Documentation Required by the SEVP
Payment of the Registration Fee (Tuition Schedule)
Translated emergency Medical Information Form and list of current immunizations. The school's medical staff will evaluate necessary immunizations
We will not be able to accept international students after October 1 unless they are transferring from a school in the United States.
ATHLETIC AND EXTRA-CURRICULAR ACTIVITIES
Students are encouraged to participate in extra-curricular school activities. F1 visa students are permitted by the Delaware Interscholastic Athletic Association to compete in school athletic competition under the following policy:
International students will not be accepted for athletic reasons, and parents and athletes must sign a school addendum attesting to this fact.
Students must submit a completed DIAA physical form prior to participation.
F1 student participation in athletics is limited to the sub-varsity level during the first year of attendance, and students are not eligible to participate in state tournament competition during that time. Following this time period, students would then become eligible for varsity level and state tournament competition.
According to the enrollment contract, all fees are non-refundable. If a student withdraws from school after the tuition has been paid, parents will be reimbursed a prorated portion of the unused tuition minus the early withdraw fee according to the school's reimbursement policy. Class placement will not be confirmed until after all fees and admission paperwork are received. In classes where enrollment openings are limited, applicants may be placed in a wait pool. Class placement may occur from the wait pool but is not guaranteed. Please refer to the Tuition and Fee Schedule for a list of current costs.
It should be understood that enrollment is contingent upon maintenance of a satisfactory academic and general record. Official school transcripts from the applicant's school must be submitted to Red Lion prior to admission. Red Lion Christian Academy admits male and female students of any race, color, national and ethnic origin to all the rights, privileges, programs, and non-athletic activities generally accorded or made available to students at the school. It does not discriminate on the basis of sex, race, color, national or ethnic origin in the administration of its educational policies or other school-administered programs.