Logic School (6th-8th)
When the grammar of a subject is learned, we can go on to the Logic School, in which we apply reason to the facts we have learned in order to see inter-relationships, understand cause and effect, and analyze arguments. Although we teach logical thinking and analytical reasoning at all ages, we emphasize these skills and teach formal logic and debate in the Logic School. We teach our students to construct good arguments and to detect fallacious ones. We seek to develop in our students a biblical worldview consistent with the truth that God reveals. Whether the subject being taught is mathematics, science, literature, geography or the arts, we help our students develop an integrated understanding of God and His creation.
6th Grade
Saxon Math Course 2
Bible Survey Acts to Revelation
Science – Unit studies in Biology, Earth Science, Chemistry, and Physics
Literature-based Reading Program
Vocabulary – Vocabulary from Classical Roots
English – Shurley Grammar 7
Composition – Progymnasmata (Chreia/Maxim)
History – 1812 to Present
Geography – World Geography
Latin - Lingua Latina
Scripture and Catechism Memory Program
Art
Physical Education
Grammar of Music (Hand chimes)

7th Grade
Composition and Grammar – Our Mother Tongue and English Grammar Composition: Second Course
General Science – Exploring Creation with General Science and God's Design for Heaven and Earth
Latin I – Lingua Latina
Literature – Mere Christianity; The Hobbit; The Pilgrim's Progress; Animal Farm, The Scarlet Pimpernel, A Christmas Carol; Romeo and Juliet; and Silas Marner.
Vocabulary – Vocabulary from Classical Roots
Pre-Algebra – Elementary Algebra
Old Testament - The Holy Bible
Scripture and Catechism Memory Program
Art
Music
Physical Education

8th Grade
Algebra I – Elementary Algebra
Latin II – Lingua Latina
Logic – Introductory Logic for Christian & Home Schools and Intermediate Logic for Christian & Home Schools
Classical Literature & Composition I –
The Screwtape Letters by C.S. Lewis (summer reading assignment)
Gilgamesh
The Iliad by Homer
The Odyssey by Homer
Theogony and Works and Days by Hesiod
Agamemnon by Aeschylus
Oedipus Rex and Antigone by Sophocles
Medea by Euripides
Myths of Greece and Rome by H.A. Guerber (excerpts)
Vocabulary – Vocabulary from Classical Roots
Old Testament Biblical Theology –The Holy Bible, English Standard Version (excerpts) and A House for My Name by Peter Leithart
Scripture and Catechism Memory Program
Western Civilization I –
Histories, Herodotus.
History of the Peloponnesian War, Thucydides.
The Life of Alexander the Great, Plutarch.
The Early History of Rome, Livy.
The History of the Church, Eusebius.
In Praise of Constantine, Eusebius
City of God, Augustine
Theaetetus, Plato
The Republic, Plato
Gorgias, Plato
Nicomachean Ethics, Aristotle
Meditations, Marcus Aurelius
The Didache
First Apology, Justin Martyr
On First Principles (Book IV), Origen
The Seven Ecumenical Councils, Philip Schaff (ed)
Art
Music
Physical Education
Rhetoric School (9th-12th)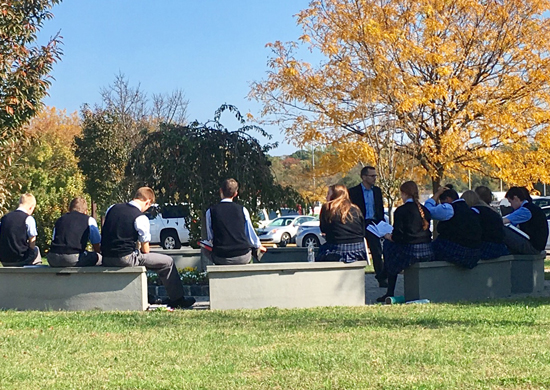 The capstone of a classical education is reached in the high school years when our students learn the rhetorical skills that allow them to master a subject and communicate it to others. They learn to conduct research, form their own conclusions, and effectively and persuasively communicate their understanding.
The leaders of every field have reached this level of learning, which we call the Rhetoric School. By the time our students reach high school, they are developmentally ready to begin formal training in rhetoric, and to practice applying that training in all their subjects. We give them opportunities to hone their rhetorical skills through written work, including major theses in their junior and senior years, as well as oral presentations. They learn to defend their faith humbly and intelligently. They develop the confidence and skills they need to succeed in higher education or to tackle any subject they want or need to learn. Tall Oaks students are equipped to be lifetime learners and leaders.
9th Grade
Argumentation and Debate – The Debater's Guide
Physical Science - Accelerated Studies in Physics and Chemistry
Classical Literature & Composition II –
Ben Hur by Lewis Wallace (summer reading assignment)
Euthyphro and Apology by Plato
The Aeneid by Virgil
Metamorphoses by Ovid (excerpts)
Confessions by St. Augustine
Beowulf
Inferno by Dante*
Vocabulary – Vocabulary from Classical Roots
Geometry – Seeing, Doing, Understanding
Spanish I – Avancemos 1
Western Civilization II –
The Scientific Revolution, Shapin
Short History of Byzantium, John Norwich
The Life of Alfred the Great, Asser
Enneads, Plotinus
Rule of Saint Benedict
Morals on the Book of Job, Gregory the Great
Annals of Xanten
Procopius: Secret History
Tarik's Address to His Soldiers
History of the Patriarch's of Alexandria
Battle of Tours, Descriptions
Einhard's Life of Charlemagne
Concerning the Origin of Guilds
Orations, Themistius
The Divine Names, Dionysius
The Mystical Theology, Dionysius
The Seven Ecumenical Councils, Philip Schaff (ed)
Timothy's Apology for Christianity, Patriarch Timothy I
The Primary Chronicle
Abelard: Sic et Non (Yes and No)
John of Salisbury: The Metalogicon
Thomas Aquinas: Summa Theologica
Dictates Papae (Dictates of the Pope)
Urban II: Speech at Clermont
Fulk of Chartes: The Capture of Jerusaelm
William of Malmesbury, The Battle of Hastings
Magna Charta
Ordinance of Laborers, 1349
Joan of Arc: Twelve Articles of Accusation
Petrarch: The Ascent of Mount Ventoux
Lorenzo de Medici: Paternal Advice to a Cardinal
Pico: Oration on the Dignity of Man
Thomas á Kempis: Imitation of Christ (1427)
Erasmus: In Praise of Folly (1520)
Martin Luther: Ninety­-Five Theses (1517)
Martin Luther: "On Christian Freedom" (1520)
The 12 Articles of the German Peasants (1524)
John Calvin: Institutes of the Christian Religion
Selected Works of Huldrich Zwingli
The Religious Peace of Augsburg (1555)
Westminster Confession
James I on the Divine Right of Kings (1609)
Thomas Hobbes: Leviathan (1651)
John Locke: Essay Concerning Human Understanding
John Locke: Two Treatises of Government
Isaac Newton, Principia (1687)
Descartes: Meditations
Enquiry, Hume
"Assayer," Galileo
New Organon, Bacon
New Testament Biblical Theology – Holy Bible and The Four
Scripture and Catechism Memory Program
Physical Education
Art
Music
10th Grade
Algebra II – Algebra and Trigonometry
American Literature – The Scarlet Letter; The Adventures of Huckleberry Finn; The Great Gatsby; My Antonia; The Red Badge of Courage; Our Town; The Crucible; Moby Dick; and Evangeline
Biology and Lab - Exploring Creation with Biology College Prep
Spanish II – Avancemos 2
Systematic Theology – Christian Theology: An Introduction; On the Incarnation and Confessions
Scripture and Catechism Memory Program
U.S. History –
The Federalist Papers.
Selections from the Early Colonies.
Selections from Thomas Reid.
Letters from Benjamin Franklin.
Editorial by "Dickinson."
"Common Sense," Thomas Paine.
The "Antifederalist" Papers.
Jefferson's Autobiography.
Franklin's Autobiography.
"Memorial and Remonstrance."
Andrew Jackson, Inaugural Address.
Andrew Jackson, First Annual Message to Congress.
"Memorial of the Cherokee Nation."
Henry Clay, "Defense of the American System."
John C. Calhoun, Slavery a Positive Good.
Charles Finney, What a Revival of Religion Is
Lyman Beecher, Six Sermons on Intemperance
Alexis de Tocqueville, Democracy in America
Horace Mann, "Education and Nat'L Welfare"
Cady Stanton, Remarks at Seneca Falls
William Lloyd Garrison, Defense of His Positions
Select Lecture of William Wilberforce before Parliament.
Margaret Sanger, The Case for Birth Control.
Margaret Sanger and Winter Russell, Debate on Birth Control.
The Franck Report.
The Truman Doctrine.
Abington v. Schempp.
Obergefell v. Hodges.
Personal Finance
Art
Music
11th Grade
Aesthetics – Beauty for Truth's Sake: On the Re-enchantment of Education; Music and Morals: A Theological Appraisal of the Moral and Psychological Effects of Music; The Fragrance of God; Symposium; Modern Art and the Death of Culture.
British Literature – Sir Gawain and the Green Knight; 1984; The Faerie Queene (Book 1); Canterbury Tales; Emma; MacBeth; Henry V; Heart of Darkness; Robinson Crusoe; Paradise Lost
Chemistry and Lab – The Spectrum Chemistry
Hermeneutics and Spiritual Disciplines – Spiritual Disciplines for the Christian Life
Scripture and Catechism Memory Program
Precalculus – Algebra and Trigonometry and Precalculus with Limits
Civics –
The Republic, Plato
The Politics, Aristotle
In Praise of Constantine, Eusebius
City of God, Augustine
Homilies on the Statues, John Chrysostom
"On Secular Authority," Martin Luther
Institutes of the Christian Religion, John Calvin
The Federalist Papers
Theology and Social Theory, John Milbank
Rhetoric I – Ancient Rhetorics for Contemporary Students; Rhetorica ad Herennium; and Eats, Shoots and Leaves by Lynne Truss
Spanish III / IV - Interacciones
Art
College Prep
Music
12th Grade
Advanced Literature –
Crime and Punishment by Fyodor Dostoevsky (summer reading assignment)
The Brothers Karamazov by Fyodor Dostoevsky (excerpts)
Eugene Onegin and "The Queen of Spades" by Alexander Pushkin
"The Nose" and "The Overcoat" by Nikolai Gogol
The Death of Ivan Ilych by Leo Tolstoy
One Day in the Life of Ivan Denisovich by Alexander Solzhenitsyn
Hamlet and The Tempest by William Shakespeare
Inferno by Dante*
Everything that Rises Must Converge (selections from the collection of short stories) by Flannery O'Connor**
Till We Have Faces by C.S. Lewis
Brave New World by Aldous Huxley
The World's Greatest Short Stories (selections from the anthology), Ed. James Daley
Literature: A Student's Guide by Louis Markos
Apologetics – City of God; Orthodoxy; Atheist Delusions: The Christian Revolution and Its Fashionable Enemies and The Abolition of Man
Scripture and Catechism Memory Program
Calculus – Calculus of a Single Variable
Greek - Athenaze by Balme and Lawall
College Prep
Economics –
Foundations of Economics: A Christian View, Shawn Ritenour.
Economics in One Lesson, Henry Hazlitt.
The Literary Book of Economics, Michael Watts, ed.
Usury in Christendom: The Mortal Sin that Was and Now is Not, Hoffman
Physics and Lab – Physics: Principles and Problems
Rhetoric II – The Rhetoric Companion
Art
Music
Electives:
Computer Electives
Vocal Ensemble
Yearbook
Debate Team
Art